**pulls out a dry towel**
We have had some wild weather - a swarm of thunderstorms rolled up the country yesterday and roamed right over the top of us. I went out in it to make sure the stormwater drains were clear and spent 20 minutes cleaning out the long drain at the end of the house that has been gradually silting up. Because it was still daylight, I didn't get a fancy light show for my trouble - the jafas got that as it moved out to sea off Auckland's east coast.
At 6.30pm, the stormvue tracker looked like this
and what that lot deposited on the Kaimais looked like this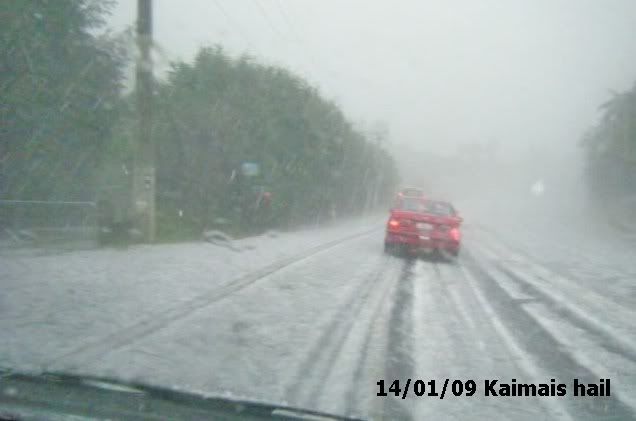 It was so cold when I went to bed, I shut my windows.
So, this morning was clear and bright and washed clean and it's a delight to potter around in one's night attire (you deal with the prospect of nudity). Until the dogs started barking down at the park; and the people started yelling. After a while, the yelling got to be a pain so I wandered over to the edge of the bank for a squizz and saw what looked like two people, 3 dogs in a screaming mess in the middle of the fields - two dogs attacking, one man trying get them off, neither on a leash (he didn't even have one on him) and I'm bloody sure when he pulled the main attacker away, it was tugging on an arm.I hope that was just my crappy eyesight and I wish I hadn't seen that.
One cellphone, one phone call and police and ambulance were on their way. Reinforcements showed up from across the bridge. The ambos worked on this person for thirty minutes or more. The police came to the door. The council animal control people called me.
I think I want to move house - that's 4 111 calls in just over a month, 3 domestic related scenarios being played out within earshot (one bashing/ one loud yelling and swearing/ one yelling and swearing and shrieking on the other side of the bridge. Jeez sound travels...) and two unleashed, out of control dogs chowing down on something they shouldn't. There's something really fucking whack about this sudden influx of public nastinesses. Once upon a time, all we had to worry about were unsupervised softballers kids and the touch rugby brats, thieving little non pink bastards, noisy clubroom functions and pissed people shouting at the person next to them in the car park just prior to doing doughnuts in the gravel at 2 in the morning. Life was so much simpler, then.
We get to pay the council $1400 odd bucks a year for the privilege of having this lot for neighbours. And the 1.5 acre "front lawn" with established trees which is a delight that the council mows for us each week. Thank God they do, I don't have
that
long an extension cord!
The other thing I was going to say (ha! I remembered all by myself!) was about
this
and
this
A World War II Spitfire aircraft, due to fly at this weekend's Wings Over Wairarapa air show, crashed at the Masterton Aerodrome today.

The Mark 9 Spitfire crashed just after 3pm, said a fire communications spokesman.

The pilot, whom 3 News said was owner Doug Brooker, was not injured in the crash. However, the plane would not be able to fly in the air show now.

The cause of the crash was not known.

"Nobody actually saw it, because of course the threshold of that particular runway is out of view from anybody on the aerodrome," show director Tom Williams told 3 News.

The recently rebuilt plane was going to fly decorated 91-year-old World War II spitfire pilot John Pattison over Wellington.

Mr Pattison was awarded France's highest honour, the Legion d'Honneur, by French president Jacques Chirac.

He was a commanding officer of 485 New Zealand Spitfire Squadron during the war, and was wounded in battle after his plane was shot down.




I might have a pic or two of
the airshow
to post next week, Sis and hubby are heading down in the camper van tomorrow.