**pulls out a fresh tissue, balls it up and chucks it**
I spent some considerable time today cleaning up Deb's web site after someone cracked the site and added hidden content designed to be picked up by Google to the bottom of the code of every html page. The referring link from the Google search that made the hit showed that there is an Auckland site been done over as well.
Five minutes, just 5 is all I want alone with the motherless little bastard who thinks this shit is funny. When I'm finished with the baseborn one, I'll turn him over to Nush.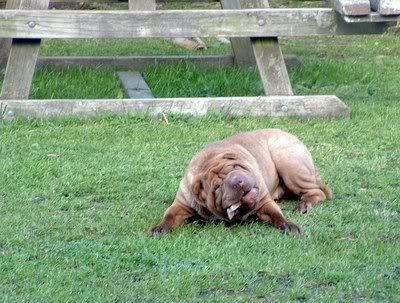 She likes a bit of tenderised and sun-ripened flesh to chew on.
PS - that's the dregs of her second trotter from the Pork Post the other week that she's chewing there. It smells
fucking awful
divine.